---
29 August - 5 September 2020   NOW AVAILABLE
Also back in 2021, email now to register interest
Join us at this heavenly seaside Yoga space for deliciously de-stressing Yoga that will help you release tension and completely refresh mind, body and spirit. Unlike many yoga holidays and retreats, which share space with 'regular' holiday makers, we'll have exclusive access of the whole venue and gardens, which offers the chance for deep rest, healing and soulful connection.
Advice on Covid 19 coronavirus and travel to Turkey
We have postponed the fully-booked trip from June to September and hope we can travel then. As not everyone can make the new dates, there are several rooms available to join us. It's a glorious time of year with fresh figs and grapes all coming into season, warm Mediterranean Sea and balmy days.
Turkey has good border controls and protocols in place and currently there are few reported incidents of the virus.  
We're keeping a watching brief and will only travel is safe to do so. At the same time we're mindful that Suleyman, his family and the beautiful land rely on our patronage to survive. As with all things CV-19 related each situation has to be weighed. 
As usual when participating in a yoga retreat, please ensure you have adequate travel / health insurance.  
Here's a glimpse into the magic with live reviews and testimonials from previous participants, giving you a flavour of what to expect and why we love going back year after year.
"It gave me everything I hoped for, and lots more. The whole experience was seamlessly organic - the peace and serenity of Suleyman's Gardens, the acceptance and support of everyone in the group, the wonderful food that was growing all around us and magically appeared on our plates, the yoga that soothed and strengthened, comforted and challenged... and above all the generous spirit in which Julia teaches, weaving it all together in the most accessible way.  I count myself very lucky indeed."  Marilyn
---
We'll be the sole occupants of this world class venue nestled into one of the most spectacular parts of the Mediterranean coast, on south west Turkey's ancient Lycian Way.  
All inclusive full board with magnificent freshly prepared organic food from the land itself - we've tried to take care of everything so you'll be free to completely unwind.
This week is for you if you crave re-balancing a tired mind and a body in need of rest; the perfect tonic to a busy life. Peace, community, easeful movement and reconnection to your natural way of being.
The Yoga is suitable for everyone and previous groups have included complete beginners alongside experienced practitioners. Many come back year after year for the vital tonic that this precious week offers.
"Sometimes it's easy just to pick up the threads once a holiday is over, but I must admit that this time I do have surprisingly strong wishes to be back at Suleymans! It seems to be a combination of so many things - the place itself, which I found exceptionally soothing, and all that delicious food, but most of all the atmosphere which you generated, both with the Yoga and beyond. It really does feel as if I've left a family somewhere! I've been with other groups at other times but for some reason this was really special and all-encompassing." Jenny
Enjoy your 2 Yoga sessions a day, relax on your own private veranda or take a stroll to the secluded turquoise sea below.
This retreat centre is a truly special place to unwind and rediscover what it means to live at your natural pace.  A short journey from the world renowned Olu Deniz blue lagoon, Suleyman's Garden will  transport you back to a time when living from the fruits of the earth was a way of life and where you can once more find a sense of being at one with nature and yourself.  
With glorious sea views, the wooden Yoga shala and individual chalets are sensitively scattered amongst the terraces and gardens.  Meals are tenderly created by Deniz and her family using home grown organic fruit and vegetables (fish available on request) - not only healthy, fresh and delicious, but also playing a vital role in helping to support this family and local community.  
Alongside this, the soulful expansive Scaravelli inspired Yoga will meet you where you need to be met, with an invitation to drop all need to push and pull and instead open up to a natural unfurling and reintegration of your body, mind and breath throughout the week.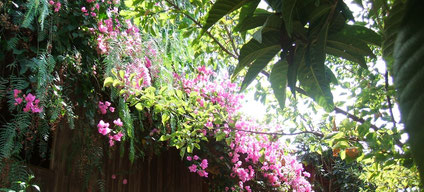 "Suleyman's Garden called to mind a mini Eden!
Intimate, contained and abundant...it's incredibly hard to find
such an unspoilt stretch of coast and peaceful nourishing garden
 in which to unwind body mind and soul."