---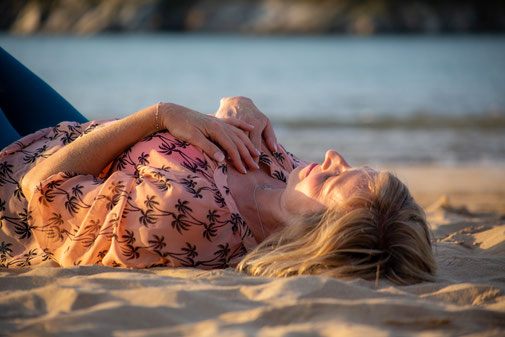 Monday 27th June - Friday 1st July 2022 - fully booked but do email me to join the waiting list
Far from the madding crowd, with acres of natural woodland gardens and the welcoming peace of this sanctuary just minutes from the coast and main transport links.
Join me for a week of sisterhood, laugher, quiet contemplation and deeply nurturing, restorative Yoga.
"I can't imagine a place I'd rather be, not even the mediterranean at this time of year!" Lesley
---
Arrive from 4pm Monday and drop into the rhythm of nature.  Enjoy tea in our sunny south facing garden with nothing but the hum of bees and twitter of birds to accompany your pausing.
Our first evening will include group introductions with some easeful Yoga to loosen out the knots and settle the mind.
For the remainder of the week, optional morning meditation sessions will be followed by a lazy breakfast and 1.5 hours of morning Yoga.  
Afternoons lend themselves to snoozing in the garden or the comfy sofas in our spacious lounge, or maybe reading a book in the leafy ease of the conservatory.
If you're feeling sociable, you'll find good conversation with new Yoga friends or venture out to some of Cornwall's most spectacular coast (we're only a short drive from the famous clifftop Minnack open air theatre and azure waters of Portchurno beach).
Pre-dinner Yoga will be tailored to the group with a range of options including focusing on breath, particular parts of the body and /or deep relaxation.
A note on Covid 19 times: Alongside meticulous cleaning and sanitisation, the house, gardens and yoga studio are spacious, whilst numbers are strictly limited to allow plenty of social distance as required.  
We know just how important meals and nourishment are to the whole retreat experience.
Mealtimes will be a feast of delicious organic whole-food dishes - think mouth-watering veggie mains with yummy homemade cakes and afternoon tea - eat as much or as little as you like.
Vegan, gluten free and other dietary requirements can be catered for with advance notice.  Please let us know on booking if this applies to you.
"It was such a treat to have wholesome veggie food that really tickled the taste buds!  And all the wonderful cake and puddings (optional of course) made me feel I could indulge a little too.  Really nice to have that balance of healthy walks, nature and Yoga with good honest food." Ruth
We will be the sole occupants of a beautiful detached country home, set in its own grounds and with our own private light and spacious Yoga studio tucked into the gardens.  
The house was built at the turn of the last century for an artist and his family.  Stepping into its flagstone entrance hall it feels like being wrapped in a warm hug.  The house breathes history and you can sense the love and laughter of years gone by.
Rooms are available as singles, doubles or twins providing plenty of options to come alone, with partner, friends or siblings. 
Just 15 minutes from Penzance (trains straight to London Paddington, connecting services via Plymouth to Bristol and beyond) and less than an hour from Newquay International Airport.
Only 10 minutes to Lands End, the stunning Porthcurno beach with its famous white sand and turquoise waves and the equally renowned Sennen Cove.
With a maximum group size of 10 be quick to register and claim yourself some essential me-time. For prices and  further details click the Book Here button above.
"Oh my gosh I just want to live here!! I felt so at home straight away. Miles away from daily pressure, even though I only live 40 miles up the coast! I love all the little touches and feeling the house's history over the generations." Beth
Wonderful food, accommodation and Yoga are all included in your weekend Yoga break.
Massages can be arranged in advance. This will be arranged nearer the time.
During free time, you're welcome to explore locally and if enough people are interested we will happily organise a trip to the famous Minack Theatre nearby and / or to Sennen Cove and its art galleries and beachside cafes.
This Yoga week is for you to....
Expect to never want to leave, but when you do you will be fully relaxed, restored and blissfully content.
"It's been so much more than I could ever imagine and hope for - though I did hope and my hopes have been totally exceeded!  I was a bit nervous coming and not sure what to expect but you made everyone so welcome and I settled in straight away. The house and studio were amazing, an ideal country / seaside retreat. Thank you!" Jo
If you have any questions, click here and I'll come straight back to you.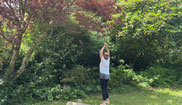 ---
Replenish and restore with the help of
Julia's soulful, nurturing Yoga sessions 
and experience the deeply restful qualities
of this hidden part of Cornwall