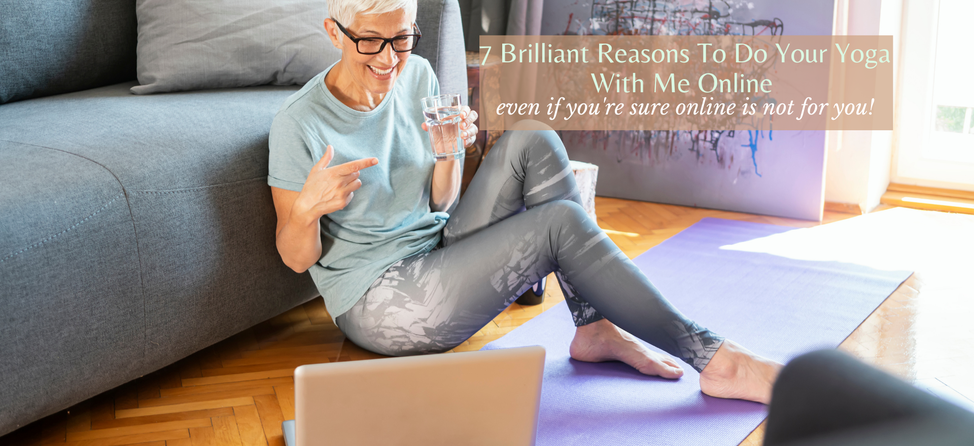 Life is busy, you get to class sometimes but not enough or maybe you're not ready to be back in a room with others when everything's still so uncertain. You may not think online yoga is for you, but there's a surprising warmth and intimacy that can be felt regardless of where we are. And whilst you can do online yoga with a multitude of other providers, there's a host of reasons to choose mine - read on to find out why:
1. It's the perfect way to experience my kind of yoga
As you'll know if you've done yoga with me before, this is no ordinary yoga! More of a moving meditation, a journey into the quiet space deep within you and a sensitive exploration of movement that begins from there... Practising at home brings a deeper connection with this often hidden part of yourself and the scope to relax into it, noticing more profoundly things that might have passed you by in a group setting. 
2. the energy and impact are totally different
The difference between online yoga with me and doing say a YouTube or standard pre-recorded video is that mine have been created with people like you in mind, in the company of a live group of like hearted souls. The energy and feeling are completely different. Over time with access to 100+ videos to practice, my form of Scaravelli Inspired yoga will totally transform how you feel, creating deep ease and inner calm. 
3. you don't have to watch - unless you want to
 "No more screen time" is one of the main reasons I hear for not taking an online yoga class and I totally get that. But because my yoga is so focused on the feelings, moving in tune with your body, you don't have to.  With detailed descriptions and a focus on your inner landscape rather than outer form, you can let your eyes rest and your inner awareness expand. This somatic yoga is also wonderfully calming and helps to rebalance and replenish every cell in the body.
4. You are free to be completely yourself
Whilst I'll always remind you to do only what feels good and honour the messages from your body, this is so much harder when others are around you. Online nobody is watching, nobody is comparing and class members treasure adjusting the practice so it really nurtures them, free from any feeling of distracting others or somehow 'failing'. To me this is the heart of yoga, yoga as it was intended to be. Throughout I suggest options and to feel into what you need in this moment, building a self kindness and confidence that goes way beyond the mat. 
5. The bliss of extended savasana
All of my classes are infused with a healing energy and designed to leave you completely blissed out. I sometimes think this is the best part of my online yoga, resting, integrating, floating... We all know the joy of landing at the end of class in an exquisite state of peace. Then the teacher says it's time to move and others around us start stretching, rustling, chatting. Our nervous systems are re-stimulated and we get swept back into life. Swapping the 'usual' journeys to and from class for extra moments of inner stillness is gold and will pay massive dividends in your daily life, enhancing your intuition, reducing stress and building resilience. 
6. It's amazingly good value
Unlike many other teachers offering live yoga online, I don't charge by the class but by the month, saving you ££'s in the process. I also don't send out video links that expire after just a few days or make watching again something you have to pay extra for. All sessions are recorded, edited and stay in my library, so if you make the most of it each session is no more than £4 and as little as £1. 
7. It brings us closer - like having me in your home
This is consistently the biggest surprise for my online yogis. Far from feeling out of touch, online yoga beams me into the heart of your home - Ros says, "it's just like you're there with me and there's nobody else, it feels really special." This seems to apply whether you join the live classes or do them at a time that suits you. Class members are also amazed how time and again the session was exactly what was needed. Lesley sums it up when she says, "I don't know how you do it, but it always feels as though you've created the session just for me." It's part of the specialness of this tender intuitive yoga. We are connected through our hearts and that, it turns out, is the strongest connection of all.
so what are you waiting for?
I'm sure you can find a bundle of reasons not to, but how about the many reasons why it could be the best thing you do?! Plus, with my money back guarantee if you come to my online classes for a month and really don't enjoy them you can have your money back, no questions asked. Go on, join me now and make this your year of calm.