Bringing ease and joy to body, heart and mind
"Your teaching is so playful and kind, I fear you have spoiled me for any other teacher now!"
Sky, Yoga holiday participant
---
Are you looking for a way to move and rejuvenate that's more than just "doing poses"? To quieten your mind, connect with your heart and bring joy to your soul? 
Movement that feels in tune with your body, whatever your age, flexibility or fitness.  Mindful guidance that relieves stress and tension.  Precious space that brings an inner quiet rarely experienced in modern life... Then you're in the right place.
Tailor a session to your own specific needs & wants with a private online session and video recording to replay at your leisure.
Covid-19 Coronavirus update - all "in person" yoga classes are currently suspended. But I'd love you to join me online from the comfort of your own home.  Private sessions also available. 
The restorative June yoga retreat is postponed to September.  A few rooms are available and I'd love you to join me, travel permitting.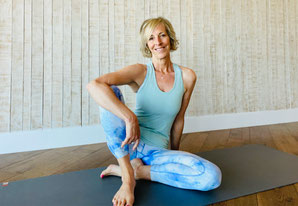 "I always think you should leave a good yoga class with that smiley woozy feeling you have after a great massage
and this was definitely that kind of experience.
Best not to operate heavy machinery for a while!"
Sophie, day workshop participant
Yoga for beginners and equally for experienced yogis. The advanced practice is the same - to tune in, unwind and find your own natural freedom (moksha).
Postures (asana), breathing (pranayama), mindfulness (dharana) and meditation (dhyana) merge together, creating harmony of mind, body and soul.
"And I said to my body, softly 'I want to be your friend.'  
It took a long breath and replied,
'I have been waiting my whole life for this.' "
Nayyirah Waheed
---