Bringing ease and joy to body, heart and mind
"Your teaching is so playful and kind, I fear you have spoiled me for any other teacher now!" Sky, Yoga holiday participant
Come and experience yoga in the glorious natural surroundings of the Lost Gardens of Heligan.  I'll be leading 4 beautiful Yoga sessions for a special week of Natural Wellbeing.
Sunday 23rd June 
10:00 - 11:00am Natural yoga , Natural you
13:00-14:00 Healing Yoga
Mon 24th June
10:00-11:00 Natural yoga , Natural you
Wed 26th June
10:00-11:00 Healing Yoga
Meanwhile, our Autumn Yoga retreat is just over the horizon... 3 days and 3 nights of peace, tranquility, meditation and yoga in the picturesque woodlands near Lamorna Cove, Cornwall.  Join us for wholesome food, deeply nurturing yoga and wonderful coastal walks followed by evenings around the fire...
"I always think you should leave a good yoga class with that smiley woozy feeling you have after a great massage
and this was definitely that kind of experience.
Best not to operate heavy machinery for a while!"
Sophie, day workshop participant
And... an invitation to dive deep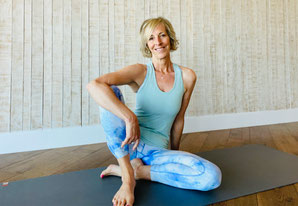 Oceanlight Yoga creates the space for you to be, softly immersed in your own experience, letting go of daily pressures and tapping into a deeper you, where calmness, comfort and joy have the chance to grow.
Come with me, Julia, on an inward journey to the very essence of yoga. Inspired by Vanda Scaravelli's instinctive approach, you will move your body in ways that feel good, opening gently for your breath and energy (prana) to flow.  Giving room to your mind to let go and rest. A rare and much needed treat in today's demanding life.
Discover how yoga can go beyond fixed ideas of posture and breath. A place where there is no right or wrong and instead an invitation to feel, sense and find new freedom. A freedom that has been waiting just under the surface for you to glimpse. It is absolutely suitable for beginners and equally valuable for experienced yogis.
Postures (asana), breathing (pranayama), mindfulness (dharana) and meditation (dhyana) merge together in a dance that will lead you towards greater harmony in mind, body and soul.
Want to know more? The only real way is to try for yourself.
*The perfect gift for peace and relaxation*
Can be used for classes, workshops, holidays and private sessions
"And I said to my body, softly 'I want to be your friend.'  
It took a long breath and replied,
'I have been waiting my whole life for this.' "
Nayyirah Waheed