Bringing ease and joy to body, heart and mind
"Your teaching is so playful and kind, I fear you have spoiled me for any other teacher now!"
Sky, Yoga holiday participant
---
 Are you looking for a way to rejuvenate that's more than just "doing poses"? To connect more joyfully with your body with love and kindness? For a practice that quietens your mind, meets you in your heart and brings light to your soul? 
Then you're in the right place.
Together we'll release tension, gently strengthen and honour the way your body is by nature so that you experience new comfort, poise, and a sense of beautiful freedom from within. Soulful movement that's in tune with you and your body, connecting you to your own natural intelligence and inner wisdom.
From bliss-filled retreats in Cornwall and France, to online classes and workshops, this special yoga brings a new way of relating with your body, new joy and delight as well as self-acceptance and inner calm.
"We all love you for your efforts, your unique ability to make each of us feel unconditionally special.
I feel so fortunate to have met you in my latter years and experience your teaching which has had such an impact on my life."
Laura, weekly class member
Join me online now and receive my bonus collection of short daily practices, full access to my vast yoga video library plus guided relaxations for better sleep, health and calm.
Read what existing online members are loving about it here
For something to look forward to - why not retreat with me in 2021 to my 'covid secure' yoga weekends and week long breaks. All live in person events are covered by my Covid-19 Refund Guarantee, so if for any reason you can't join me due to the pandemic you will receive a full refund.
New for June 2022 is a week at this magical chateau in one of France's most resplendent national parks. A little slice of heaven. Bookings open now.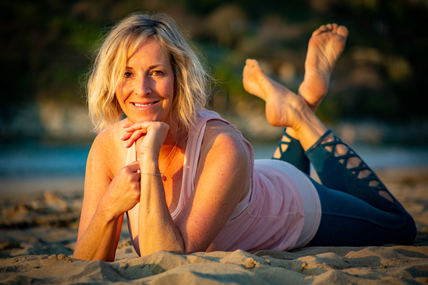 Finally, if you'd like some personal attention, tailoring a session to your own specific needs & wants, why not book a private online session with me. This is a lovely informal way to get your questions answered and your individual needs met, with the option to receive a video recording to replay at your leisure.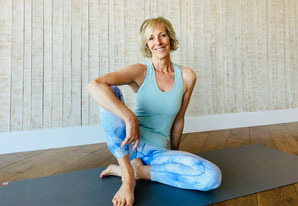 "I always think you should leave a good yoga class with that smiley woozy feeling you have after a great massage
and this was definitely that kind of experience.
Best not to operate heavy machinery for a while!"
Sophie, day workshop participant
Yoga for beginners and equally for experienced yogis. The advanced practice is the same - to tune in, unwind and find your own natural freedom (moksha). Postures (asana), breathing (pranayama), mindfulness (dharana) and meditation (dhyana) merge together, creating harmony of mind, body and soul.
"And I said to my body, softly 'I want to be your friend.'  
It took a long breath and replied,
'I have been waiting my whole life for this.' "
Nayyirah Waheed
---