Bringing ease and joy to body, heart and mind
"Your teaching is so playful and kind, I fear you have spoiled me for any other teacher now!"
Sky, Yoga holiday participant
---
Are you looking for a way to move and rejuvenate that's more than just "doing poses"? To quieten your mind, connect with your heart and bring joy to your soul? 
Movement that feels in tune with your body, whatever your age, flexibility or fitness.  Mindful guidance that relieves stress and tension.  Precious space that brings an inner quiet rarely experienced in modern life... Then you're in the right place.
LATEST NEWS: Deeply replenish your mind, body and soul with my cosmically-influenced Livestream Yoga Nidra.
When: this Tuesday 20th October*
Where: private online event, link issued on booking
 *the download-able recording will be sent to everyone who books whether you can attend live or not
During this special session I'll be infusing your energy field with light codes and clearing any stagnancy, so you can connect to your purest highest self, your deepest truth and joy.
Autumn is the perfect time to reconnect to your Yoga practice, or begin for the first time. As the days draw in, your mind and body are more receptive to the quietening of nature around and within.  Join me online now and gain access to an exclusive 5 day morning practice. 
Read what existing online members are loving about it here
Missing the connection of practising together in physical presence? Longing for some time to yourself immersed in playful and supportive movement? Registrations are now open for this year's Inner Revolution Yoga Journey - click image below for details. This will be a very small group of us gathering monthly in person one afternoon a month at a beautiful new studio just outside Newquay. 
JUST 2 PLACES LEFT
Want something further ahead to look forward to? Retreat with me to my new 7 night 'Covid Secure' yoga chateau in the South of France from 5th - 12th June 2021. Surrounded by luxuriant countryside, wild swimming rivers and its own private pool, this is a little slice of heaven. Bookings now open!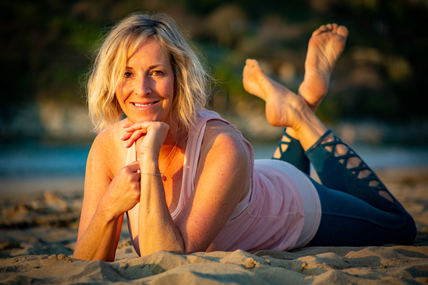 Finally, if you'd like some personal attention, tailoring a session to your own specific needs & wants, why not book a private online session with me. This is a lovely informal way to get your questions answered and your individual needs met, with the option to receive a video recording to replay at your leisure.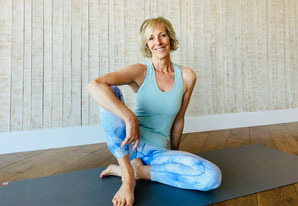 "I always think you should leave a good yoga class with that smiley woozy feeling you have after a great massage
and this was definitely that kind of experience.
Best not to operate heavy machinery for a while!"
Sophie, day workshop participant
Yoga for beginners and equally for experienced yogis. The advanced practice is the same - to tune in, unwind and find your own natural freedom (moksha).
Postures (asana), breathing (pranayama), mindfulness (dharana) and meditation (dhyana) merge together, creating harmony of mind, body and soul.
"And I said to my body, softly 'I want to be your friend.'  
It took a long breath and replied,
'I have been waiting my whole life for this.' "
Nayyirah Waheed
---